MPs and peers will move into temporary accommodation 'around 2025', committee hears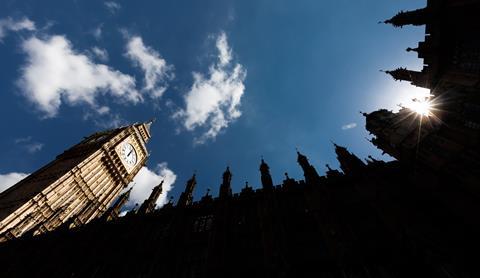 The refurbishment of the Palace of Westminster will not end up being a bottomless money pit, MPs and peers were assured yesterday.
Parliamentarians will be in temporary accommodation during the restoration project for up to seven years once the work gets under way around 2025.
Giving evidence to the Draft Parliamentary Buildings (Restoration and Renewal) Bill Committee, Liz Peace, chair of the shadow Sponsor Board of the Restoration and Renewal of the Palace of Westminster, told committee member and Tory MP Edward Leigh that the multi-billion-pound job would not turn into a "money feast" and the shadow sponsor board was "very clear on how long it will take and its cost".
Peace said the project would start "by the mid-2020s and last between six and seven years".
Plans are underway to relocate peers to the nearby QEII centre while MPs will move into Richmond House, which is part of the Parliament-owned Northern Estates.
Lendlease has been appointed to carry out work on the former Department of Health headquarters, Richmond House, to turn it into a debating chamber and associated offices.
But Peace admitted any public inquiry into proposals to demolish part of Richmond House under plans drawn up by AHMM could delay the renovation programme.
This is proving controversial with architectural heritage campaigners who object to the destruction of all but the facade of the 1987 building which the DoH left back in 2017. Michael Hopkins and Save Britain's Heritage published an alternative proposal for the temporary adaptation of Portcullis House.
Last year, Wates won the high-profile £650m contract to upgrade a number of buildings set to contain MPs' offices in Westminster known as the Northern Estate Programme.
The Northern Estate scheme includes the grade-I listed Norman Shaw North and grade-II listed Norman Shaw South buildings – both over 100 years old – and 1 Derby Gate and 1 Parliament Street – two grade-II listed buildings from the 1880s. Together around 15,300m2 of office space will be refurbished.
Most of the buildings have not been refurbished in over 40 years and so essential works are now needed to improve fire safety, building performance and M&E services.
Consultants working on the Northern Estate include lead designer BDP while WSP and Gleeds are carrying out the programme, project and cost management role.
BDP is also the architect set to carry out refurbishment of the Palace of Westminster, having landed the deal back in 2017. CH2M is carrying out programme, project and cost management services.
The draft bill to establish the statutory bodies responsible for the restoration of the Palace of Westminster was published in October last year.
The select committee is expected to hold two or three more public hearings and finish its deliberations on 28 March, then publish a report which may suggest changes to the draft legislation. The government will then bring forward a formal bill for Parliamentary approval.