Birmingham development came to a standstill after Carillion went bust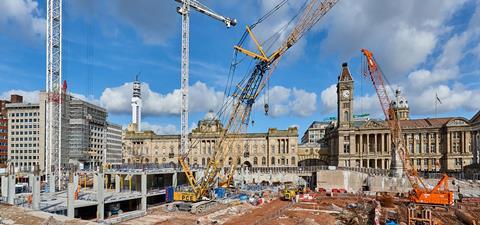 A £700m mixed-use scheme in the centre of Birmingham is still weeks away from fully restarting after Carillion's collapse caused the development to grind to a halt earlier this month.
The bust firm was building the first office building at the Paradise scheme – set to be occupied by its liquidator PwC – and delivering other site-wide works on a £250m contract.
Argent, which is developing the scheme for a team including the city council, had hoped work would be back up and running within a week after Carillion's failure.
But Rob Groves, regional director of Argent, has now confirmed that discussions about restarting the work with Carillion's supply chain are still continuing more than two weeks after the contractor went under, admitting that a resumption of work was still "weeks" off.
Groves said the likely route was to work directly with subcontractors to finish off the building.
He added: "Our aim is to work with the existing supply chain and we are advancing with the necessary agreements and health and safety measures to get contracts in place for work on the building to restart in a matter of weeks."
The 172,000 sq ft building known as One Chamberlain Square has been designed by Eric Parry and topped out just before Christmas. It s due to complete this autumn.
But demolition contractor DSM restarted work at the site over the weekend to clear the way for Bam to start work on a second office scheme at the site which is due to get underway next month.