Aldous Bill will now be heard this autumn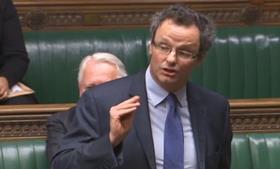 The second reading of the bill aiming to protect retentions in the construction industry has been pushed back for a second time.
Tory MP Peter Aldous (pictured) had been scheduled to give the second reading of his Construction (Retention Deposit Schemes) Bill 2017-19 in the House of Commons on Friday.
But the bill's second reading is now scheduled for 26 October. It was originally due to be heard at the end of April.
Rudi Klein, chief executive of the Specialist Engineering Contractors' Group, one of the organisations that helped develop the bill, said the decision to postpone the second reading again had been made to increase the bill's chance of being heard.
Klein said: "If you look at the timetable for [this] Friday, it's crowded.
"When we moved it originally there was only three bills ahead of it. When the decision was made to move it again there were 19.
"The draft of the bill is all ready to go, so we are ready."
He said the second delay presented an opportunity as it gave government time to reconsider its position. "What we have had so far is members of cabinet expressing their sympathy for the issue," Klein said. "We are calling for outright support from government."
He said both government's silence on the bill and lengthy delay publishing the findings from its consultation on cash retentions, which closed in January, were a source of anger in the construction industry.
Klein said: "There is a lot of frustration about this. The government talk about reform to the industry being a game changer, but let's see the game changing.
"It's inexcusable that it has taken so long for the government to take any stand and extremely surprising they are not considering the matter with more urgency in the wake of Carillion's collapse."
He said while many in the industry favoured protected retentions, as the bill would legislate, others are in favoured an outright ban of the practice.
"To me that isn't important, it's two sides of the same coin," Klein said. "The important thing is that pretty much every firm in the industry is saying it needs to change."
Klein said he hoped firm's would take the time now available before the second reading to write to their local MPs requesting they support the bill.
The current defence secretary, a former chancellor and the leader of the Liberal Democrats are among 120 MPs throwing their weight behind the bill.
Gavin Williamson, Ken Clarke and Vince Cable have been joined by a raft of other big names to support the bill, which has its second reading next Friday.
Shadow chancellor John McDonnell is also supporting the proposal along with Green party leader Caroline Lucas and high-profile Conservative Remain supporter Anna Soubry.