Plans for 564 new homes in Ealing district
Peabody looking to appoint a partner to help it deliver The Green scheme in Southall, south-west London, a contract worth up to £140m.
The project, which received planning approval from Ealing Council last October, aims to create 564 homes, half of which would be affordable.
The housing association, which doubled its housing construction starts in the first half of the financial year, is developing the scheme in partnership with the borough.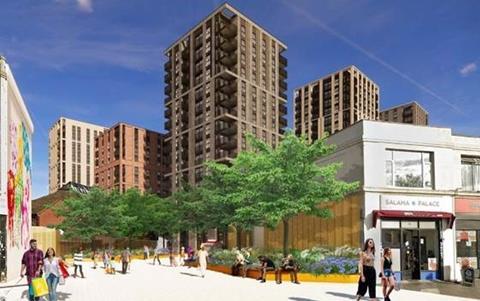 The site is within the Southall Opportunity Area, established to bring 6,000 new homes and 3,000 jobs to the area. It is also near Southall train station, which will eventually take passengers to central in London in less than 20 minutes by Crossrail.
The Hunters-designed scheme will include more than 2,922 sq m of commercial space as well as dedicated community facilities.
All new homes are expected to meet national space and sustainability standards and are designed for households of varying sizes.
Peabody, which is responsible for more than 104,000 homes across London and the Home Counties after its merger with Catalyst Housing, claims the new businesses at The Green will provide 90 new jobs to the area.
Firms have until 13 June to bid on the project.