Lord Best says housebuilders won't deliver the quality or quantity of homes required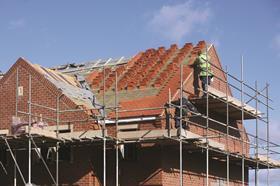 Members of the House of Lords have taken a swipe at major housebuilders, with Persimmon receiving criticism for handing out extravagant executive bonuses.
In a debate introduced by cross-bench peer Lord Best, the performance of major housebuilders in the wake of the escalating housing crisis was called into question.
Best, who is the vice-president of both the Town and Country Planning Association and the Local Government Association, said the "UK's major housebuilders are not going to achieve either the quantity or the quality of the new homes the nation needs".
He said the business model of major volume housebuilders - less than a dozen of which are responsible for 70% of the nation's new homes - had let the country down, saying too great a focus was placed on securing land regardless of the cost, which lead companies to renege on affordable housing promises.
Best added backing councils as direct housing providers, boosting the output of housing associations, giving life to more specialist providers and bolstering smaller, local housebuilders would reduce the dependency on major housebuilders.
"I appreciate that my various recommendations could mean lower profits for the plc housebuilders but shareholders in these companies have been doing very well indeed over recent years," he said. "My sympathy for the housebuilders themselves is moderated by the knowledge that current profits have made the bosses of these companies extraordinarily rich."
He singled out Persimmon, with its chief executive Jeffrey Fairburn set to take home more than £100m in bonuses this year.
These bonuses were derided by a number of peers, with Lord McKenzie of Luton labelling them "obscene".
"Persimmon's performance has benefited directly from the Government's Help to Buy scheme—a performance where completions of the majors rose by 48% over the period, but profits by 10 times that rate of increase," he said.
But the performance of major housebuilders was not criticised from all corners, with conservative peer Lord True saying: "I detest the stench of greed in that Persimmon bonus scheme, but I will not join a lynch mob attacking housebuilders". He added: "We should be grateful for successful housebuilders of any size".
Lord Bourne of Aberystwyth, the parliamentary under-secretary for the ministry of housing, communities and local government, said Persimmon would hear the criticisms.
"I understand the particular frustrations that have been expressed in relation to Persimmon. They will note what has been said—not least because we will make sure a copy of the debate goes to all major housebuilders, our partners and all agencies in this area."