Jeff Fairburn to become new CEO after Mike Farley retires in April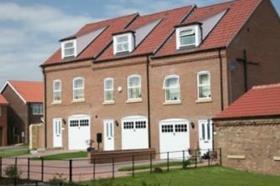 Housebuilder Persimmon has announced the forthcoming retirement of CEO Mike Farley.
In a statement released today, Persimmon said Farley - who has been in the post for seven years and at the firm for 30 - would hand over in April to Jeff Fairburn, currently group managing director.
Chairman Nicholas Wrigley said: "Mike Farley has been an outstanding chief executive and has made an enormous contribution to the development of Persimmon over many years.
"The announcement in February 2012 of our new long term strategy and £1.9 billion capital return plan over nine and a half years is a testament to his strong leadership, strategic clarity and long-term planning. He will leave Persimmon with our gratitude and best wishes for his retirement."
Wrigley added that Fairburn, who he described as a "a talented and experienced executive" who had been with the firm for 23 years, would now play a central role in the delivery of the new strategy.
Persimmon also announced that it is restructuring from three operating divisions (North, Central and South) into two divisions (North and South). Persimmon's 24 operating businesses will be split evenly between these divisions. This new structure will "create further operational efficiencies and synergies across the group ", the firm said.
In a trading update also released today, Persimmon said it had built only an extra 543 homes in 2012 compared to the year before.
This is despite major government programmes to boost housing delivery such as FirstBuy.
The volume of new homes legally completed by the firm increased by 6% to 9,903 from 9,360 in 2011 with an average selling price of £173,400 from £163,999.
Persimmon said in the update that its main priority continues to be improving its operating margins which rose to 13% last year with a future target of between 15% and 17%. The housebuilder has increased the size of its landbank to 68,000 plots.