The housebuilder was heavily criticised for handing its chief executive Jeff Fairburn a £75m bonus earlier this year.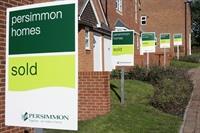 Business committee chair Rachel Reeves has slammed Persimmon after the head of the housebuilder's remuneration committee said she did not know how much the average worker was paid by the firm.
At an evidence session held by the MPs on the business committee yesterday Marion Sears said she did not know what the average employee earned.
"The average … I don't have that figure to my finger tips," Sears told MPs, when asked by Reeves (pictured), what average pay was.
Reeves, a Labour MP, responded: "You're chair of the remuneration committee at Persimmon aren't you? And you don't know what average pay is, as chair of the remuneration committee?"
A company that can afford to pay its Chief Executive £45m should know what the average wage of an employee in its business is. Answers from Persimmon a disgrace. pic.twitter.com/DEb9Pr3npw

— Rachel Reeves (@RachelReevesMP) June 6, 2018
The evidence session was part of a hearing which saw MPs question firms including Persimmon and Weir Group on executive pay and measures being taken to tackle excessive boardroom pay awards.
Earlier this year Persimmon came in for scathing criticism after handing its chief executive Jeff Fairburn a £75m bonus.
Following the evidence session Reeves described the executive pay award at Persimmon as "a tale of corporate greed and incompetent pay management".
She said: "Persimmon paid out huge bonuses to the men at the top of the firm and yet this morning we have heard that Persimmon are unable to tell us how much average workers at the company are paid.
"If Persimmon can pay their chief executive £45m, they must ensure they pay all their staff the Living Wage. As a committee, we shall continue to take a close eye to the issue of corporate pay and examine what impact Government action, such as pay-ratio reporting, and new regulatory guidance is likely to have on delivering fair pay".
Reeves also took to Twitter, calling Sears' answer a "disgrace".