Listed housebuilder says weekly site sales up 7% so far in 2021
Top three UK housebuilder Persimmon saw profit fall by just a quarter in 2020 despite the impact of the covid crisis, endorsing its decision not to furlough staff during the spring lockdown.
Persimmon today reported pre-tax profit of £784m for the calendar year 2020, 25% down on 2019, on revenue of £3.3bn, a drop of just 9%.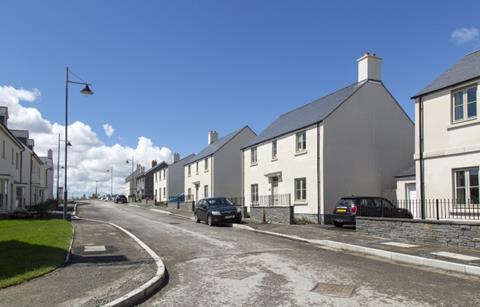 These figures compare to rival Taylor Wimpey, which yesterday reported final results showing profit down by two-thirds as turnover slumped by 40%.
Persimmon was alone among the listed housebuilders in not furloughing its staff during the spring lockdown last year, despite closing sites, a decision which allowed it to restart operations rapidly as the housing market returned in spring.
Persimmon said today its private house sales per site per week were actually 12% higher last year than in 2019, despite all of the uncertainty caused by the coronavirus pandemic. Like other housebuilders, the firm saw the market bounce back strongly in the second half of last year, leaving it with forward sales of £2.27bn at the end of December, up on £1.98bn in 2019.
The firm said trading so far this year was also up on last year, with private sales per site per week ahead by a further 7%, despite the current lockdown. Taylor Wimpey yesterday said site sales were down on 2020 so far this year.
As previously announced, Persimmon said it completed 13,575 sales last year, down 14% on the 15,855 seen in 2019. The company said it now expected to be able to increase sale completions in both the first and second halves of this year to around the level seen in the first half of 2019 – equating to volume of around 15,000.
It said it was on course to return to the 2019 level of sale completions in 2022.
Dean Finch, group chief executive, said the firm had delivered a "robust" performance through the pandemic, while keeping its focus on improving build quality and customer service. He said: "I am particularly pleased we have delivered whilst continuing to see an increase in our HBF eight-week customer satisfaction score, with our current rates above the five-star threshold.
"We must build on this important progress and further enhance our build quality and customer care so we are known for both outstanding service as well as outstanding value."
The firm also committed today to environmental targets which it said brought the business "in line with the Paris agreement" on climate change.
Last year former chief executive Dave Jenkinson had said that the firm's "early decision not to take advantage of the furlough scheme" had allowed it to maintain "good momentum in the business" through the pandemic.