Housebuilder posts 31% rise in half year pre-tax profit on back of 11% revenue jump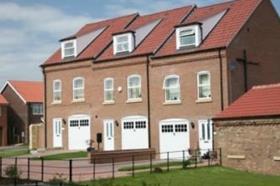 Persimmon Homes has posted a 31% rise in pre-tax profit to £272.8m for the first six months of 2015.
Revenue for the half year to June 30 at the house builder jumped 11% to 1.3bn on the back of strong sales and a 4% rise in average selling price.
The firm said the number of homes sold rose by 7% to 6,855 from 6,408 in 2014 with forward sales up 12% at £1.7bn compared to £1.4bn last year. Underlying operating margins rose from 17.7% in 2014 to 20.5% in 2015.
Persimmon is three years into a ten-year strategic plan which it predicts will allow it to return an estimated £1.9bn to shareholders.
The housebuilder's land bank rose by 11,539 plots to 92,404 and the land portfolio rose to c.18,000 acres as of 30 June. The Group invested £586 million of cash in land over the twelve month period ended 30 June 2015.
Jeff Fairburn, group chief executive, said: "Persimmon has traded well in the first half of 2015. The Group continues to take advantage of the current market opportunities to deliver sustainable growth whilst also utilising its excellent cash generation to build a strong asset platform for the future. We have now entered the traditionally slower summer weeks for the market.
"Our private sale reservation rate since 1 July is currently 5% ahead of the same period last year which is a reflection of the continuation of healthy customer demand."