Housebuilder reports "strong finish" to 2013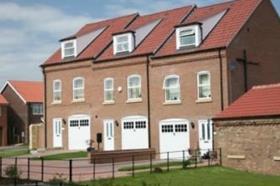 Persimmon has said it will continue its development push after acquiring 17,600 plots in 2013, representing a replacement rate of 153% over completed developments, the firm said today.
The housebuilder racked up revenues of £2.1bn in the year to 31 December 2013 – 21% up on the prior year – the firm said in a trading update ahead of publication of its full results next month.
The firm said it also anticipated "strong underlying pre-tax profit growth" but has not yet published figures.
Persimmon said it enjoyed a "strong finish to the year" and had increased its construction activity in the autumn in response to rising demand.
The firm sold 11,528 homes during the year, 16% up on the previous year, and completed construction of 6,506 homes in the second half, 30% up on the previous year.
The average selling price for 2013 was £180,900, up 4% (£173,823).