Danny Alexander confirms long-awaited announcement on a 'son of PFI' is due this autumn after series of delays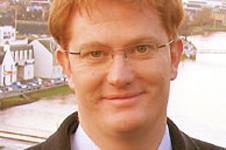 The government's review of PFI is due to be published this "autumn" Danny Alexander has said, confirming the long-awaited report on the future of the private finance initiative has been delayed again.
As Building revealed in July, the government's PFI review, which was initially expected earlier this year, and then before the summer recess, had been pushed back until autumn.
The government refused to confirm this at the time, however this morning chief secretary to the Treasury Danny Alexander confirmed that the conclusions of the long-awaited review would now be published this autumn.
When pressed for a more precise date, Alexander would not comment.
Speaking at a Centre Forum event at the London Stock Exchange this morning Alexander said: "We are engage on a process of reforming PFI, to try and harness the benefits that successful PFI schemes can deliver. We have had a really high level of engagement from industry with responses to the consultation, and over 100 further stakeholder discussions.
"We're now considering those response and will be setting out our conclusions this autumn."
"I'm not going to define the timing any further at this stage. We will be aiming to get something out as soon as we can."
Alexander also said the government was having dialogue with 30 companies over the use of government guarantees to underwrite investment in the construction of new infrastructure. He said these 30 schemes together covered schemes worth more than £5bn.
In addition he said that "detailed discussions" were underway between the government and the promoters of the £600m Mersey Gateway scheme over use of the guarantees, and said that he hoped to be able to sign the first guarantee deal before the end of the year.
Alexander reiterated the government's target to use the UK Guarantees policy to underwrite investment in up to £40bn of projects in total.
The delay on the announcement of the review has lead to delays to the government's PFI school building programme, which is not now expected to come to market until Q1 next year - nearly a year later than orginally planned.