Consultant appoints new senior partner and management partner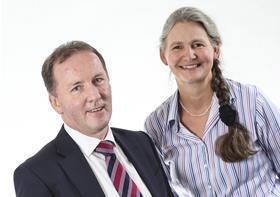 Consultant Pick Everard has named a new senior management team, with Joanna Griffin-Shaw becoming senior partner and Duncan Green stepping up to managing partner (both pictured).
Griffin-Shaw, who has been at the firm 25 years, and senior partner delegate for the past seven years, replaces David Brunton as senior partner, who has retired.
Green, who has been a partner at Pick Everard for more than 15 years, becomes managing partner.
Pick Everard, which has 450 staff, offers management, design and construction consultancy services across its network of ten UK offices.
Green said: "We will take the firm forward and further expand our national business. Our talented, dedicated senior team is actively developing the business, increasing the services we offer and is focussed on building the practice."
He added: "My long term aim is for us to be stronger in the industry, including further developing our senior team, opening new offices and continuing to satisfy our clients' needs. Our continued growth and diversification will provide opportunity for everyone at Pick Everard."
Griffin-Shaw said Green's appointment was a "natural progression for the firm".
She said: "Duncan will undoubtedly bring to the role his energy and passion for the practice and the industry. Pick Everard is growing rapidly and is ready to meet its ambitious plans for further expansion and delivery.
Griffin-Shaw said that the firm's decision to stick with its planned investment programme through the recession had left it in "a strong position to support the continued success" in the recovering construction market.
She added: "We have recently seen a period of uncertainty within the construction industry but we have continued to innovate and focus to ensure we have in place new systems to meet ever changing legislation and government agendas."