Secretary of state gives go-ahead to £400m Squire & Partners scheme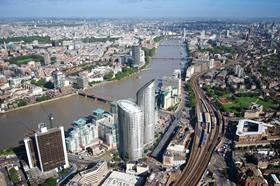 The government has approved the development of two towers worth £400m in Vauxhall, south London.
Developer Kylun appealed to the secretary of state for communities and local government, Eric Pickles, to intervene after Lambeth council failed to make a decision on the Vauxhall Cross scheme in adequate time.
The development consists of two towers – one 40 storeys and the other 32 – designed by architect Squire & Partners.
The towers will incorporate 291 apartments, including 58 affordable units, shops, restaurants, a cinema, a dental surgery, a hotel with sky bar and 26,000 sq ft of offices.
The Planning Inspectorate advised Pickles to approve the scheme, judging the towers would have an "acceptable" effect on views from the Westminster World Heritage site, including Parliament Square and Westminster Bridge.
Lambeth's council leader Steve Reed said: "Now that the decision has finally been made about the future of this site we are determined to work together to ensure the future regeneration of Vauxhall.
"There may have been different views in the past about the best way forward. The situation has now changed. Going forward we will be working together to realise and unlock this important site's enormous potential for Vauxhall."
Michael Squire, partner at Squire & Partners, said: "We are delighted that the plans for the Vauxhall Cross Island site have been granted consent by the Inspectorate.
"The scheme will transform and reinvigorate the area, opening up the confusing transport interchange and providing an important connection between the historic centre of Vauxhall, the river and the emerging Vauxhall, Nine Elms Battersea Opportunity Area.
"New retail, offices and public spaces will improve the ground floor environment and bring life to this previously derelict site."
Monatgu Evans was the planning consultant.