Berkeley chairman says his thoughts are with those who lost lives and families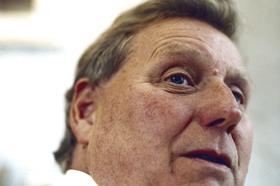 Berkeley Group chairman Tony Pidgley has said to the "best of my knowledge" no construction workers were injured following a helicopter crash at the developer's One St George's Wharf construction site in Vauxhall.
A helicopter collided with the 50-storey building's tower crane in heavy fog and crashed in flames in a nearby street, killing two people and injuring 13.
Pidgley described the incident as a "tragedy" and said his thoughts were with "those that have been lost and their families".
Reports have suggested the crane driver had a lucky escape as he was running late for work, meaning he was not in the crane cab as expected when the helicopter hit. A witness – who claimed he spoke to the crane driver after the crash – corroborated this account with Building.
But Pidgley said he "couldn't believe" the crane driver would have been sent up to operate the crane in heavy fog.
He said it was "normal procedure" not to operate a crane "in those conditions" but said he couldn't say "categorically" what the crane driver was told this morning.
He said it was too early to say what impact if any the crash would have on the construction timetable but said "to the best of the knowledge [of the people on the job] there's no structural damage to the building".
Police confirmed earlier today that whether the red warning lights on top of the crane were functioning correctly will form part of their investigation.
Pidgley said the crane driver had said "the light was working last night" and tests had been conducted on the lights which found they were working.
The Press Association reported that "it is understood that there were lights in place on top of the crane, which were checked twice a day and had been checked yesterday".
The London Fire Brigade said this afternoon that there is "no imminent risk" of the crane at the Berkeley construction site collapsing.