Exclusive: Proposals to salvage stalled £1bn London skyscraper include Lipton Rogers 'austerity tower' plan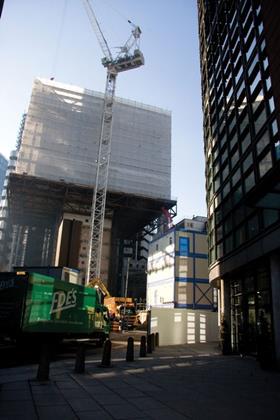 London's £1bn Pinnacle tower could be knocked down and rebuilt from scratch following a review of the project to make it more viable in the current market, Building has learned.
A review of the scheme aimed at reducing the cost - expected to take about three months - is being carried out by contractor Brookfield Multiplex and developer Arab Investments.
Securing a pre-let remains crucial to advancing the scheme and a source close to the developer said this week "all options" are being looked at in the review of the project.
Building has learned options being drawn up for the future of the scheme include a proposal by Lipton Rogers, the fledgling developer launched by Sir Stuart Lipton and former Stanhope director Peter Rogers, to focus on affordable office developments.
It is understood this would involve a cut-price alternative to the stalled Pinnacle, possibly demolishing the above-ground work already completed - seven floors of concrete core - and starting from the groundworks up. One source said such a redesign of the scheme would "start from scratch".
It is understood that Lipton Rogers has not yet contacted Arab Investments with the proposal, but if the new venture does makes a formal approach, it will go head-to-head with Brookfield Multiplex.
A well-placed source said that Brookfield was still the favourite to develop out the job.
Another source said the most likely route for Lipton Rogers to get involved in the scheme would be to join the development as a minority stakeholder alongside Arab Investments.
The source said Lipton Rogers "could inject enough equity, say 10-20%, to move the project forward to a sufficient stage to secure a pre-let". Any proposed scheme is likely to be significantly different to the existing spiralling design - estimated to cost about £1bn - conceived pre-recession by architecture practice KPF.
The 63-storey Pinnacle would be the City of London's tallest tower if built, but has lain dormant for over a year due to funding issues.
Last month the scheme received a boost after Arab Investments secured a two-to-three year extension to a £140m bank loan, while the three special vehicles that own the project also reached an out-of-court settlement in a legal battle with Brookfield Multiplex over £16m in unpaid fees. That agreement led to the current review being undertaken.
Lipton Rogers and Arab Investments declined to comment. Brookfield Multiplex was unavailable.