Redesign seeks to make project viable with changes to floor plates and less retail space, but distinctive design retained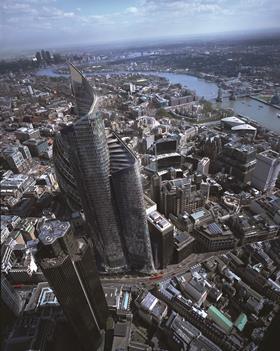 The review of the stalled Pinnacle tower development in the City of London is near completion, with the "helter skelter" design set to be retained, Building has learned.
The main owners of the scheme, Sedco, a Saudi Arabian fund manager and Sharia-compliant investment fund Pramerica, placed the scheme under review in January, with contractor Brookfield Multiplex, architect Kohn Pederson Fox, and development manager Arab Investments seeking to value engineer the stalled project to make it viable.
That came after funding for the scheme, which if built would be the tallest tower in the City of London, dried up in late 2011, with work on the tower on hold since January 2012.
Building understands the review is now largely complete, with no significant changes to be made to the exterior of the tower and the "helter skelter" design retained.
However, changes have been proposed to floor plates, and retail space on the lower floors has been scaled back to increase commercial office space. There is also a larger atrium that could encompass two separate main entrances to accommodate two major corporate tenants.
It is understood the proposed changes to the retail element would require fresh planning permission from the City of London, although this has not yet been sought.
The review has also reduced the cost of the project, which was thought to be as high as £1bn.
Brookfield's construction contract for the existing scheme is worth £593m.
Meanwhile, property firm CBRE, which was brought in earlier this year to source new funding for the project, is understood to have now drawn up a shortlist of investors in the scheme with movement expected in the new year.
All parties declined to comment.