Transport secretary gives road scheme the nod two years after it was quashed in High Court ruling
Plans to build a £1.7bn tunnel near Stonehenge have been approved by the Department of Transport, two years after they were thwarted by campaigners.
The 3.2km tunnel from Amesbury to Berwick Down was first given the green light in 2020 but quashed by the High Court the following year after a campaign by locals.
The route aims to reduce traffic and journey times on the A303 road, but passes close to the 5,000-year-old monument, a UNESCO World Heritage Site.
Transport secretary Mark Harper admitted in a 64-page letter that "there will be harm as a result of the development to cultural heritage and historic environment".
But he said he was "satisfied there is a clear need" for the tunnel, adding that the project's "harm on spatial, visual relations and settings is less than substantial and should be weighed against the public benefits".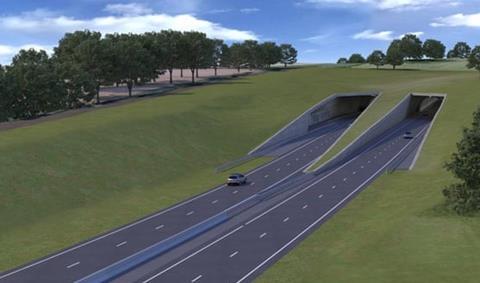 Steve Gooding, director of transport policy group RAC Foundation, said the fight over the scheme is "not over yet".
Gooding told the BBC: "The likelihood must be that objectors will already be poring over the Secretary of State's lengthy and detailed decision letter looking for grounds on which to launch another legal challenge.
"Quite apart from the risk of further legal delays, the next hurdle for the project is getting the funding in place to proceed, despite the economic squeeze on the Department for Transport's budget."
The Planning Inspectorate had concluded the tunnel would cause "permanent, irreversible harm" to the area ahead of former transport secretary Grant Shapps' decision to approve the scheme in 2020.
The Save Stonehenge World Heritage Site alliance successfully challenged Shapp's move in the High Court.
Three European contractors have been chosen to build the tunnel under a joint venture called MORE, comprised of Spanish firm FCC, Italy's WeBuild and BeMo Tunnelling from Austria.
The international consortium beat competition from two other shortlisted joint ventures – HDJV, comprising Hochtief Infrastructure GmbH and Dragados SA, and MJV, which was composed of Bouygues Travaux Publics SAS and J Murphy & Sons – in May last year.
Mace has also won a cost consultancy role on the tunnel, and a joint venture between Costain and Mott MacDonald was awarded a £60m job as delivery assurance partner on the scheme in October.
A Costain team featuring Balfour Beatty was down to build the new road more than 15 years ago but the pair's contract was terminated in December 2007 when those proposals were withdrawn by the then government.