Development Securities, Lafarge and Brookfield Multiplex team-up for scheme near Ebbsfleet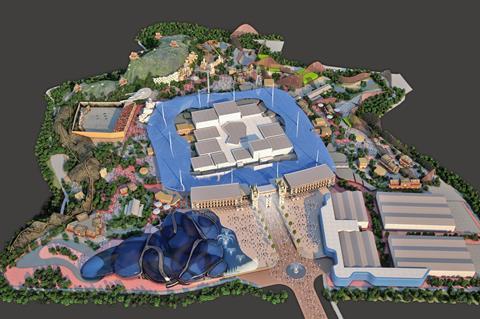 Development Securities, aggregates firm Lafarge and contractor Brookfield Multiplex have unveiled plans to build a £2bn Paramount Pictures theme park in Kent.
The development on the Swanscombe Peninsula in Kent would include a water park, roller coaster, music venues, cinemas, hotels and restaurants.
A joint venture called London Resort Company Holdings (LRCH) has been formed between the three companies to take forward the plans.
Ray Hole Architects and FaulknerBrowns Architects have done the initial masterplanning and feasibility studies for the development.
Tony Sefton, project leader for LRCH, said that after the Olympic Games the scheme was "Britain's next major regeneration opportunity".
"Our vision is to create a world class entertainment destination, the first of its kind in the UK. We are at the start of a long journey, but have been encouraged by the support and buy-in we have had to date. We are particularly pleased with the appetite we are seeing from investors, who consider this a compelling investment proposition. "
The site of the development is close to Ebbsfleet international station with trains to Europe, which LRCH hopes will give it the ability to rival Disneyland Paris.
He added: "Over the next 12-18 months we will be progressing the planning application, while embarking on a wide-reaching programme of community consultation, while securing further commercial agreements with third parties."
He said LRCH have been working closely with both Dartford and Gravesham Borough Councils, who have both offered support for the project , which was geared towards completion and opening in 2018.