Tower Hamlets approves 23-storey Aldgate development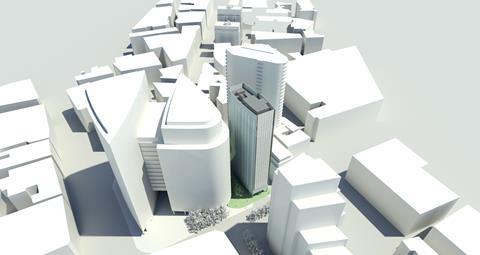 Aldgate hotel
Proposals for a 251-room hotel close to the City of London's eastern boundary have won the backing of council planners.
David Miller Architects and planning consultants Barton Willmore have gained approval for a 23-storey tower hotel within the Aldgate Masterplan and the City Fringe regeneration zone.
Developed on behalf of Pinehill Capital S.A., the hotel maximises active street frontage and will be part of a commercial hub providing new amenities for the area.
A new public pedestrian route through the centre of the building will allow the hotel lobby, cafe and bar to open out on four sides of the ground floor.
Andrew de Silva, David Miller's associate director responsible for the project, said the site's 32m x 16m footprint had presented particular issues.
"Given the tight site it was a real challenge to incorporate all the logistics that the hotel needs at street level whilst creating an uplifting and enjoyable public experience," he said.
"However we think that the proposal makes a very positive contribution to the public realm both in terms of its architecture and the activity associated with it."