Building Live: Osborne's local authority cuts to cause more planning problems according to Building Live panel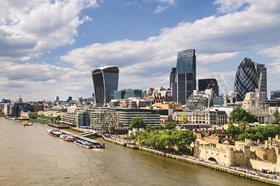 Major commercial developers Argent and Great Portland Estates have warned navigating the planning system is getting "harder" and councils are under-resourced to deal with major applications.
Speaking at a Building Live debate on the commercial sector, chaired by BD editor Thomas Lane, Argent partner Tony Giddings said dealing with planning was "getting harder", adding: "Planning applications can take yonks and the political aspects can do my head in."
James Pellatt, head of projects at Great Portland Estates (GPE), agreed planning challenges were making it "much harder to get going with development".
He added that yesterday's announcement of 55% budget cuts for local authorities by George Osborne as part of the Spending Review came "at a time when we need more people to get consents through".
The only way to deal with the planning bottlenecks Pellatt said was to "employ more planning officers" as they "do a good job, it is just a resource issue".
On one particular GPE project, Pellatt said they were having trouble getting the Section 106 agreement completed and therefore could not start on the scheme - six lawyers had already been involved.
Kevin Chapman, UK head of offices at LendLease, added that planning officers were not helped by the "level of complexity" now in buildings.
The complexity stems partly from end users and tenants becoming more demanding and requiring much more from their building.
Chapman added that occupiers are getting "a lot more sophisticated with what they want buildings to do".
"Generation Z is very mobile so the likes of London have to up the game in terms of office stock and the creativity of buildings".
The panel welcomed the escalation of tender prices as trade contractors had been suffering, while Giddings said developers had benefitted from rising rents and yield compression.
Pellatt added that GPE wanted their trade contractors to profit from working with them so that they would continue to do so. However, he sounded a note of caution in regards to the hyper inflation of finishing trades, which has happened because of the surge of overseas investment in high end residential development , as the "supply chain may get caught out" if overseas investors walk away from jobs.
He added that it was likely the Chinese would "buy a uk contractor" but was unsure how well they would negotiate with the UK supply chain.
Giddings said he quite liked the Chinese as they had "bought loads of our apartments".
He added "the future does look rosy for commercial development", but said "there is a real concern about operating buildings cost effectively."