Major schemes in London taking 34 weeks to get to a decision
The average length of time for major schemes to find out whether they get planning or not is taking more than double the government has said it should.
Whitehall has recommended that applications take 13 weeks to determine but a new survey out today has said the average figure in some parts of the country has now ballooned to 32 weeks.
It said the worst affected areas were London, Greater Manchester along with Bristol and the surrounding area.
The survey by the British Property Federation and property consultant GL Hearn found that lack of resources in planning departments was the single biggest reason for local authorities busting their deadlines.
BPF chief executive Melanie Leech said: "This report shows quite clearly that local authority planning departments are struggling to cope as a result of the efforts to find savings across the public sector and that this is having a negative impact on local authorities' ability to deliver a timely and efficient service."
While the headline average wait was 32 weeks, in London this has now gone up to 34 weeks – up from last year's 28 weeks.
It found that the volume of major planning applications determined in the capital had fallen by a quarter.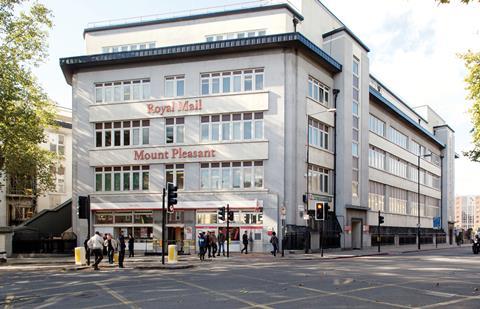 The survey also found that nearly two thirds of applicants would be happy to pay more if it would shorten determination times.
Leech said government efforts to speed up the process were long overdue. "If government wants to meet the housing challenge and develop the commercial buildings that support our economy, it is going to need to take action."
Exasperated developers in London have increasingly sought to bypass local planners with the teams behind the Mount Pleasant and Convoys Wharf residential schemes successfully appealing to London mayor Boris Johnson to intervene and make the decision instead.
On Mount Pleasant, the mayor stepped in at the request of developer Royal Mail Group at the beginning of last year after it complained the two local authorities involved, Camden and Islington, were not moving quick enough.
The redevelopment of the Royal Mail sorting office site in north London proposes nearly 700 homes in 10 buildings designed by AHMM, Feilden Clegg Bradley Studios, Wilkinson Eyre and Allies & Morrison. They will range in height from three to 15 storeys.
A few months earlier, Johnson agreed to become the planning authority for the £1 billion Convoys Wharf scheme, masterplanned by Farrells, after developer Hutchison Whampoa wrote to him and said local authority Lewisham council in south-east London was taking too long to make a decision.
Source
This story first appeared on Building Design