Vinci and St Modwen plan massive redevelopment at UK's largest fruit, vegetable and flower market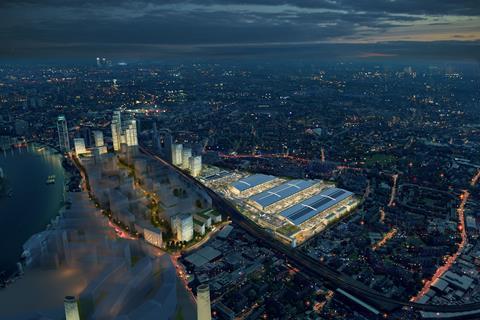 Vinci and St Modwen have submitted plans for a £2bn redevelopment of the New Covent Garden Market site in central London.
The plans, drawn up by architects BDP and Skidmore Owings and Merrell, have the approval of the Covent Garden Market Authority and include development of 550,000ft2 of facilities for the 200 business that operate out of the massive fruit, vegetable and flower market.
The scheme also includes a 20 acre mixed-use development with 3,000 homes and 135,000ft2 of office space and 100,000ft2 of leisure and retail space.
Work is scheduled to start in 2015 if the scheme is given planning permission.
Bill Oliver, chief executive of St. Modwen, said the scheme would "transform the area into a lively and exciting new quarter for London".