Final round of public consulation to take place early next year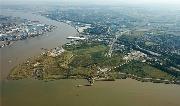 The developer behind plans to build a £3.2bn theme park in Kent has said it is aiming to put in for government approval for the scheme next spring.
London Resort Company Holdings (LRCH) added that it also now expected the 900-acre entertainment resort on the Swanscombe Peninsula to open in 2023, a year later than previously expected.
The firm said it would go through a fifth and final public consultation on the project, which is being masterplanned by architect Farrells and propersty specialist Savills, early next year prior to submitting for planning permission.
A source previously told Building that LRCH would start "reaching out to companies [contactors]" when it submits its proposals so that once approval from the government for the scheme has been obtained work on site can commence immediately.
The scheme has been hit by a numer of issues with LRCH's then chief executive David Testa leaving earlier this year and being replaced by Humphrey Percy, who is also group chief executive of London Paramount's parent company Kuwaiti European Holding Group. And in June it parted ways with its Hollywood partner Paramount.
Percy said: "We have subjected our project to considerable rigour in recent months, transformed it, and in turn are creating an inspirational and deliverable scheme.
"We are now in very detailed commercial negotiations regarding partners, the concepts they are embracing and some of the incredible creative propositions.
"The London Resort is a first for the UK. Not just because we are the first Business and Commercial Nationally Significant Infrastructure project, but more than that, together we are creating a global entertainment resort without parallel in this country, propelling us into the top ten theme park resorts in the world."
LRCH has recently agreed heads of terms with Intercontinental Hotels Group (IHG) to operate 3,500 rooms across a series hotels planned for the resort. The hotels, to be developed in phases, will open under a number of IHG's brands.