Beer has been brewed at Mortlake since 15th century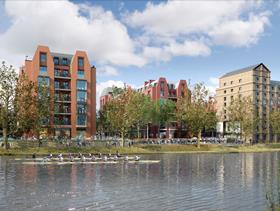 Singaporean developer Reselton has submitted plans to Richmond council to turn one of Britain's oldest breweries into a £1.25bn mixed-use development on a 200m stretch of the Thames.
The project, on the 9ha site of the Stag brewery in Mortlake, south-west London, proposes a new high street, 667 homes, 3,000sq m of office space, a 1,200-pupil secondary school and a care home.
Beer is said to have been brewed on the site since 1487 when it was part of a monastery and later supplied British troops in India and the Crimea.
More recently it was owned by Watneys, which renamed it the Stag bewery, and then by global drinks giant ABInBev which produced Budweiser there. Production ceased in 2015 when it was sold for £158m to Reselton.
The scheme, which has been designed by architect Squire & Partners, proposes a high street with 20 units for shops, bars, restaurants, a gym, hotel, cinema and rowing club.
The 667 homes will range from one- to four-bed properties and will have underground parking.