Scheme will be near replica of Hinkley Point C
EDF has finally submitted plans to build Sizewell C nuclear power station on the Suffolk coast.
The application for a development consent order (DCO) had been expected to be made in March but had been delayed by the coronavirus crisis.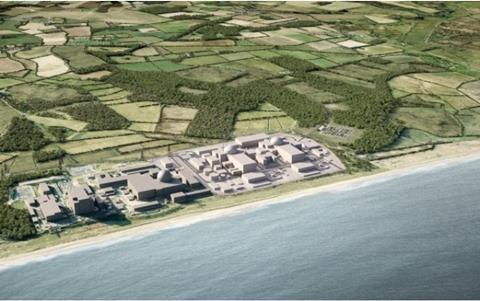 The French energy giant said: "The DCO application was deferred for two months in recognition of the extraordinary circumstances created by the coronavirus.
"Extra measures will be put in place to make it easier for local communities to scrutinise the proposals once they are published. These include extending the pre-examination period to allow more time for interested parties to register with the Planning Inspectorate."
The application for a DCO follows four rounds of public consultation which began in 2012. More than 10,000 residents and organisations in Suffolk have given their views.
If approved, Sizewell C (pictured) will supply around six million homes and will be a near replica of Hinkley Point C in Somerset.
The firm said using the same design means Sizewell C will benefit from significantly reduced construction costs and lower risk. Firms working on Hinkley include Laing O'Rourke, Bouygues and Balfour Beatty.
Sizewell C will be a sister station to Sizewell B, the last nuclear reactor built in the UK when it was completed by John Laing in 1995.