Landowner Cargiant appoints project team to masterplan major west London mixed-use scheme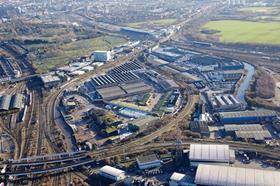 Engineering firm Arup and PLP Architects have joined London & Regional Properties on the project team for Cargiant's masterplan for Old Oak Park.
The 47-acre park, which is the largest site in Old Oak Common, forms part of a vast development site which has been chosen to provide 24,000 homes, 50,000 jobs alongside a new HS2 interchange.
Last month communities secretary Eric Pickles gave the green-light to Mayor to setup a Mayoral Development Commission to take plans forward future Mayoral Development Corporation which was green-lit by communities secretary Eric Pickles last month.
The area had been picked as the new home for QPR's 40,000 seat stadium, however the club's plans were scuppered last year when Cargiant ruled out using their land as the site for the new development
Last month Deputy Mayor Sir Edward Lister intervened to quell the dispute, stating he was supportive of the stadium bid and that he hoped it could be accommodated in the respective teams' plans on the site.
Speaking about the latest appointments Cargiant MD Tony Mendes said: "I'm delighted we have appointed our full masterplanning team and to have such expert partners
"Working with us. As a major landowner and one of the most successful local businesses in the area, we are an important part of the community and best placed to understand what is right for the site."
Full project team
London & Regional Properties - Development Managers
DP9 - Planning Consultants
PLP Architecture - Masterplanners
Arup - Infrastructure and engineering
iCube - Transport
West 8 - Landscape Architects
Aecom - Energy and sustainability
Quod - Socio-Economics
Tavernor Consulting - Heritage
Waterman Group - Environmental Impact
London Communications Agency - Consultation and Communications