Boris Johnson says reform of mortgage market will spark 'biggest expansion of home ownership since the 1980s'
Boris Johnson has used his speech to the Conservative Party virtual conference to set out plans to reform the mortgage market to get two million first-time buyers on the housing ladder.
The prime minister said the government was going to take forward its manifesto pledge to set up a market for long-term fixed-rate loans, which will require deposits of just 5%.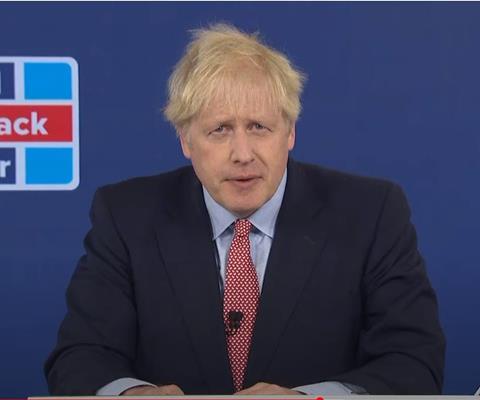 Johnson said the scheme could allow two million additional first-time buyers on to the housing ladder, spurring the "biggest expansion of home ownership since the 1980s".
The policy is designed to tackle the difficulty that first-time buyers on reliable incomes face in buying their first home due to the size of the deposit needed, with most mortgage lenders requiring at least a 15% deposit.
Johnson said the policy will give "young first-time buyers the chance to take out a long-term fixed rate mortgage of up to 95% of the value of the home".
The government is likely to use the policy to stimulate the housing market in the wake of the winding down of its Help to Buy policy, which is due to start in April next year. The policy, which offers buyers a 20% deposit on a new build home, is to be cancelled entirely in April 2023.
However, where Help to Buy specifically directed market support to new build houses, this policy, if successful, will simply support home purchases generally.
Johnson's announcement follow publication of a report at the end of last year by the right of centre Centre for Policy Studies think tank, which said there were no regulatory barriers preventing the creation of a market for mortgages where the interest rate is fixed for the perpetuity of the loan.
Because there would be no prospect of borrowers being forced to pay higher interest rates in future, the report said that meant there would be no need to carry out the "stress tests" required by financial regulators of normal mortgages, and which have forced lenders to increase the minimum deposits required.
The report found that up to 3.6 million potential first time buyers had been excluded from home ownership since 2008 by the size of deposits required, and the mandatory "stress testing" of loans carried out since lending rules were tightened in the wake of the global financial crisis.
Stress testing requires bank to ensure borrowers can still afford their mortgage if interest rates rise by 3%, locking many potential borrowers out who are easily able to afford monthly repayments.
The announcement comes as mortgage lenders have all but stopped lending at high loan-to-value ratios since the onset of the pandemic, with a 95% drop in the number of products available since the start of the pandemic.