Upmarket builder believes the government would be better turning their attentions to review local authorities' approach to planning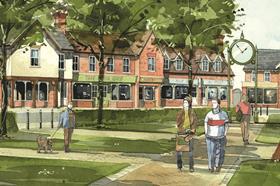 Upmarket housebuilder Cala Group has criticised an investigation into 'landbanking' by developers launched by the government last week.
The firm's chief executive Alan Brown said in a trading update for the firm that it was the fourth such review since 2004.
"The government would be better advised to review the approach to planning adopted by local authorities that continues to cause excessive planning delays," he added.
Originally announced in the Autumn Budget, an independent review led by Sir Oliver Letwin is looking into why just over half of the 684,000 homes with planning permission as of July 2016 have been completed.
Brown, whose firm posted turnover totalling £747.9m for the 12 months to end of June 2017, up 27% year-on-year, welcomed, however, the £44bn committed by the government in the Budget to boost the supply of new housing.
Cala Group in the trading update said it was on course to post record revenue and profit for its six year in a row and had set a new long term target of building over 3,000 units per year.
In the six months since July the firm said 939 new homes had been completed, a 34% increase on the first half of 2017.
In addition 20 new sites with a gross development value of £640m and the potential for over 1,500 new homes had also been acquired, Cala reported.
"2017 was another excellent year for CALA and the first six months of the current financial year have seen us maintain the strong momentum generated by the business in recent years that has seen us become the UK's fastest growing housebuilder by volume over the last decade", Brown said.
"We have made exceptional progress in transforming the size and scope of our business and remain focused on scaling up our eight divisions as we continue to make significant progress towards achieving operational efficiency."