The report from an independent inquiry into defects across PFI schools in Edinburgh has been published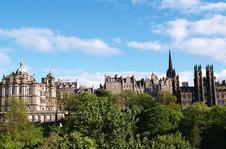 Blame for the collapse of a wall at Oxgangs Primary School, which led to the subsequent closure of it and 16 other schools across Edinburgh, has been laid on "poor quality construction".
Edinburgh council has published the report from architect John Cole's independent inquiry into the defects which forced the closure of the 17 PFI schools across the city.
Cole, an architect by profession, is a specialist in the quality of design, procurement and construction of public sector buildings.
He reported: "It is the view of the Inquiry that the primary cause of the collapse of the wall at Oxgangs school was poor quality construction in the building of the wall.
"If the wall had been designed and built to the required appropriate standard it would have been able to withstand the level of wind loading to which it was subjected."
The schools, operated by PFI consortium Edinburgh Schools Partnership (ESP), were closed from April last year for repairs after the collapse of the wall at Oxgangs Primary School spured investigative surveys of the other schools and discovered defects in the construction of the external walls.
A joint venture between Amey and Miller Construction – bought by Galliford Try in 2014 – built 13 of the 17 schools. The remaining four were built solely by Miller. Construction on the schools started in 2001 and was completed by 2005.
The inquiry also found that there was insufficient independent quality assurance and poor record keeping by the council and the ESP, as well as ineffective quality assurance measures within the wider industry.
In addition to the 17 schools in Edinburgh, evidence has been provided of similar construction defects at a number of other schools in Scotland and that four other avoidable incidents of falling external masonry panels in high winds at other Socttish schools had happened in the last few years.
Cole adds in the report that the issues identified in Edinburgh could be even more widespread and recommends the construction industry re-examine its approach to recruitment, training, selection and appointment of brick-laying subcontractors.
Meanwhile, Edinburgh council has already started a full survey of all buildings across its estate to be completed by the end of the year and is to adopt a five-year rolling programme of regular follow up surveys.
A Galliford Try spokesperson said: "Galliford Try welcomes the publication of Professor John Cole CBE's final report following his Independent Inquiry into the Construction of Edinburgh Schools and note its findings. Throughout the inquiry we have co-operated fully and openly at all stages.
"It is a matter of record that Galliford Try acquired the historic liabilities for Miller Construction when it purchased the business in July 2014.
"Galliford Try plays a leading role in public sector construction in Scotland, producing high-quality facilities that make a difference daily to people's lives. We are committed to maintaining the highest standards of construction and health and safety to ensure that communities we serve can have the fullest confidence in the built environment around them."