Move set to help deliver two major rail electrification projects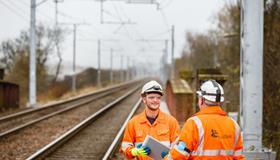 Austrian-based Powerlines has bought out Carillion's share of the pair's joint venture work on the electrification of the Midland Mainline and the Shotts line linking Glasgow and Edinburgh.
The move is set to secure 220 jobs of ex-Carillion workers who had been left in limbo since the contractor went bust in January.
The Powerlines Group and its UK subsidiary, SPL Powerlines UK, said it has taken over the Carillion's 50% stake in the Carillion Powerlines joint venture meaning it is now fully owned by Powerlines.

The two electrification projects Carillion and Powerlines had been working on are worth more than £300m.
Staff will be transferred from Carillion to SPL Powerlines UK over the next few days, the firm said. Powerlines Group said it expected the acquisition to secure 300 jobs from both sides of the JV in the long term.
Network Rail handed the Midland Main Line deal to the JV in October last year, despite two recent profit warnings from Carillion in July and September.
The Carillion Powerlines JV was created in 2014.