Government is looking to European Investment Bank and capital bond markets to finance £2.4bn private element of programme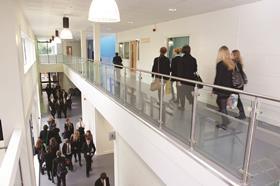 The government is looking to the European Investment Bank to help get its flagship £2.4bn private finance school building programme off the ground.
According to BBC report, the Education Funding Agency, the schools capital body working with councils to deliver the programme, is now looking to capital bond markets and even the European Investment Bank to fund it.
The BBC said the Department for Education denied building work would be delayed as a result, but confirmed it was now looking at a number of options including a bond finance solution.
Meanwhile, nearly nine out of ten schools in the programme do not have start dates, according to the report of a survey conducted by the Local Government Association (LGA).
The BBC said that the LGA survey found that just 19 of 158 schools, or 12%, that responded to a survey about the programme had start dates, despite the fact education secretary Michael Gove said the programme would start "immediately" when he launched it in May last year.
The survey found that only a handful of schools, those funded directly by the government, will be rebuilt by the general election. None of the privately-financed schools have so far secured funding, and 66 of the 158 said they had heard nothing from the government on their refurbs.