Wembley developer Quintain has received a cash offer of £700m from US private equity firm Lone Star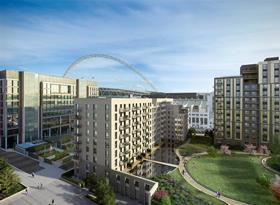 US private equity firm Lone Star has agreed a deal to buy Wembley developer Quintain in a £700m cash offer.
The Dallas-based company is offering shareholders 131 pence per share through investment vehicle Bidco, indirectly controlled by Lone Star Real Estate Fund IV.
Lone Star said the deal would give Quintain the funds to more rapidly build out its Wembley development.
Angus Dodd, senior managing director of Lone Star Europe Acquisitions said: "The proposed acquisition represents a unique opportunity for Lone Star to gain further exposure to residential and commercial assets in London." He added the firm intends to retain the Quintain name and run the business as is.
The directors of Quintain are recommending the sale of the business to shareholders and Building understands that early indications show the shareholders to be on board with the sale.
Shares in the firm have been trading below net asset value for the last three years making it the most obvious target in the sector for a bid offer, analysts said.
Analysts at Stifel said: "Ever since the new management team came on board and started to tidy up the company, selling Greenwich and then iQ, our expectation was that either it would just work out the existing portfolio or that the company would be bid for".
Quintain has most of its assets tied up in land yet to be realised and analysts noted that it was at risk from a slowdown in London's housing market as falling house prices would negatively affect land value.
William Rucker, chairman of Quintain, said: "The offer by Bidco delivers an attractive opportunity to unlock future value from the Wembley Park development at an early stage through the certainty of a cash offer."
Earlier this month Lone Star launched Amaris, a £1bn hotel company, uniting 89 hotels from its portfolio and it owns Eileen House in Elephant & Castle, which has permission for a residential tower despite opposition from nearby nightclub Ministry of Sound.