Firm racks up £92m loss in half year
Costain slumped to a £92m loss in the first half of this year as the firm counted the cost of problem contracts dogging the business.
The company had been forced to delay its interim results by nearly four weeks as it awaited an arbitration decision on a problem road job in south Wales.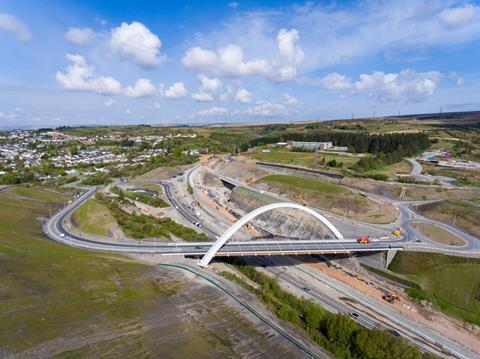 But earlier this month, the firm said that a long running dispute with the Welsh government over problems affecting the construction of the A465 Heads of the Valley road had been resolved, with the contractor set to lose £45m as a result.
Completion of the road is due next year, six years after it signed the deal. Costain said the dispute centres on the "building of a specific retaining wall under the contract, [which] has implications for the responsibility for design information under the whole contract and therefore Costain's ability to recover these costs".
It had already said that it would take a one-off charge for £49.3m on another problem job, a £113m deal it signed in 2016 to upgrade compressor stations in Peterborough and Huntingdon for National Grid.
Costain left the job at the end of last month and said the sum in question was for work it has not been paid for.
Costain, which said it was pulling out of bidding similar jobs in the future, said: "The Group continues to believe that it has a strong entitlement to recover this sum which is subject to successful pursuit through adjudication and potentially litigation."
It said the two jobs had led to a number of changes at the business with two leadership layers removed and the arrival of Sue Kershaw in March from accountant KPMG, where she was managing director of its infrastructure advisory group, as managing director of its transport business. Kershaw reports directly into Costain chief executive Alex Vaughan.
Costain added that contract management processes and procedures had been tightened in the past year.
The firm said it had made £1m on the sale of non-core assets in Zimbabwe but had racked up a £600,000 loss on the sale of a marina in Spain last month as well as costs of £700,000 in fees following its completion of a £100m cash-raising move in May which has seen Dubai contractor ASGC becomes its biggest shareholder with a 15% stake.
The firm said it received £1.6m from the government's Coronavirus Job Retention Scheme after it furloughed 360 staff – around 11% of employee numbers – during the period. It added that the majority are now back at work with all its sites are up and running with the firm operating at around 90% of productivity compared to pre-covid-19 levels.
Costain said it had a net cash balance at the half year of £141m with its order book remaining at £4.2bn which includes £900m of secured revenue for next year.
In the six months to June, the firm racked up a £92.3m pre-tax loss from an £8.4m profit last time on revenue down 8% to £599.2m.