Firms have until middle of next month to bid for £242m job
More details have emerged in the search by Highways England for a project manager on the £6.8bn Lower Thames Crossing project.
In a contract notice, the agency said the £242m deal will last for eight years with an option to extend it by a further two.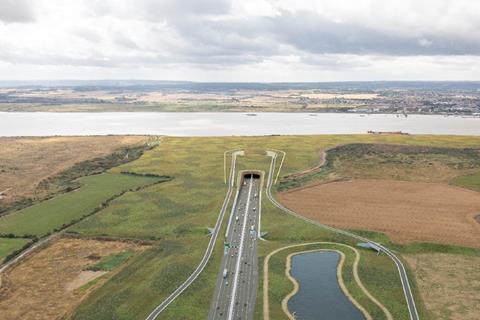 It added: "This is the most ambitious roads project in the UK for more than a generation. The project will be transformational for the UK economy."
Firms have until 14 August to send in bids for the role which is being billed as an 'integration partner'.
In Prior Information Notice issued last month, would-be bidders were told that the winning firm would be precluded from being the main contractor on the job.
Meanwhile, Aecom has won the next phase of work on the project.
The firm, which has been working on the job since 2017, is carrying out ground investigation work for Highways England and is part of the Perfect Circle consortium which includes Gleeds and Pick Everard.
The scheme has been awarded under Scape's National Built Environment Consultancy Services framework.
The 23km Lower Thames Crossing project (pictured) will feature two bored tunnels beneath the River Thames with interconnecting link roads to the M25, A13, and A2. It will cross the river east of Tilbury in Essex and Gravesend in Kent, creating a link between the A2 and the M25.
The crossing will feature three lanes in each direction and, at 16m in diameter, will be one of the largest bored tunnels in the world.