Fifa general secretary Jerome Valcke suggests November-December schedule, which could prompt change to stadium design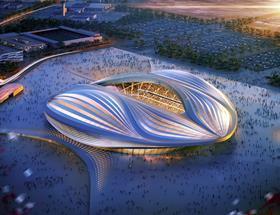 The Qatar 2022 World Cup will not be held in the summer, according to Fifa general secretary Jerome Valcke.
Valcke, the second most powerful executive at Fifa after president Sepp Blatter, ruled out a summer tournament in an interview with Radio France.
It is unclear whether Fifa's decision will result in changes to the designs of Qatar's World Cup stadia and infrastructure, plans for which are currently being drawn up to host a summer tournament.
Despite ongoing negotiations between Fifa and various national leagues to move the Qatar World Cup to the winter, the Qatar 2022 supreme committee said in November that it will design venues that can be used in the summer regardless.
Hassan Al-Thawadi, head of the Qatar 2022 supreme committee, told a press conference at the launch of the Al Wakrah designs: "We want the legacy system to be there. We want to pave the way for other countries with similar climates to host large tournaments."
Valcke suggested alternative dates in his interview with Radio France: "The dates for the World Cup (in Qatar) will not be June-July.
"To be honest, I think it will be held between 15 November and 15 January at the latest.
"If you play between 15 November and the end of December that's the time when the weather conditions are best, when you can play in temperatures equivalent to a warm spring season in Europe, averaging 25 degrees. That would be perfect for playing football."
The first of Qatar's eight new World Cup stadia, the Zaha Hadid and Aecom-designed Al Wakrah stadium (pictured), will sport advanced aerodynamic and air conditioning methods to cool the stands and field of play to enable matches to be held in the summer, when temperatures can reach a sweltering 50ºC.
In its successful bid video Qatar claimed a third of the world's countries had a similar climate to Qatar, meaning that without solving these technical issues they could be precluded.
However, in a statement, Fifa said the Valcke was only expressing his own view.
Fifa said: "Jérôme Valcke explained today in the Radio France interview – as he had already mentioned previously – that in his view the 2022 Fifa World Cup must take place in winter and the best possible time frame would be 15 November to 15 January," it said.
"However, the precise event date is still subject to an ongoing consultation process which involves all main event stakeholders