Sharq Crossing project to include three bridges plus undersea tunnels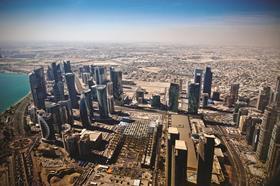 Qatar has confirmed it will build one of the country's largest and most ambitious infrastructure projects – three bridges plus undersea tunnels set to be completed ahead of the World Cup in 2022.
Doha's 12km-long Sharq Crossing will link the city's Hamad International Airport with the cultural district of Katara in the north and the downtown central business district of West Bay.
Qatar's Public Works Authority, Ashghal, yesterday announced it will go ahead with the scheme in 2015.
The project is designed by Spanish architect Santiago Calatrava and programme managed by US consultant Fluor.
Ashghal declined to give it a construction value yesterday but previous estimates have put it at around £3bn.
"Sharq Crossing is an engineering masterpiece of design, and while providing an important new artery to Doha's existing road network, it will be instantly recognisable across the world and will be an emblem for Qatar," said Ashghal's president Nasser Bin Ali Al-Mawlawi.
"Ashghal, in collaboration with its partners, is confident that once complete, this technical and engineering marvel will be one of the most outstanding structures in the world."
The three bridges, between 600m and 1,310m in length, will connect to eight km of subsea tunnels.
One of the bridges will boast a two-deck structure incorporating a recreational park accessible via an elevated walkway and a funicular railway.
Calatrava said his design is inspired by natural forms such as the image of flying fish forming the arcs.
He said: "Architecture for public works humanises the natural landscape and serves the community. The Sharq Crossing project for Doha is a great opportunity to develop an exceptional and grand piece of public work."
Qatar has come under fire in recent months because of the poor conditions endured by migrant construction workers with trade unions predicting that thousands could die building the venues and infrastructure for the World Cup. Al Mawlawi insisted labour rights were a priority for the government.
"In Qatar we have very fair labour laws and I think it's the responsibility of Ashghal to insure that these labour laws are being implemented by the contractors," he said.