Organisers launch second international architectural competition to design flagship stadium, amid corruption claims surrounding bid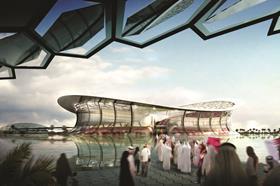 The organisers behind the Qatar 2022 World Cup have launched a second international architectural competition to design the flagship stadium that will host the tournament final.
Architects submitted bids to design the 80,000-seat Lusail stadium last month, Building understands.
The Qatar 2022 organisers ditched an earlier architectural competition for the stadium in March, despite being a year into the process.
Foster + Partners produced concept designs for Lusail stadium (pictured) as part of Qatar's World Cup bid.
The news comes amid renewed calls for Fifa to re-run its selection process for the 2022 World Cup, following wide-ranging allegations published by the Sunday Times concerning corruption surrounding the Qatar bid.
This week Michel Platini, Uefa president, said Fifa must hold another vote for the 2022 World Cup if corruption allegations against Qatar's winning bid are proven.
Platini, who supported the Qatar bid, told French newspaper L'Equipe that he does not regret his own vote for Qatar and still thinks the Gulf nation "was the right choice for Fifa and for world football".
But he added: "If instances of corruption are proved, there will need to be a new vote and sanctions."