Conservationists criticise plans to convert grade II-listed building into a hotel
Architect David Chipperfield's designs for the soon-to-be former US Embassy on Grosvenor Square will damage the grade II-listed building, conservationists at the Twentieth Century Society have warned.
David Chipperfield was hired to convert the fortified building - Britain's first modern embassy when it opened in 1960, designed by Eero Saarinen - into a hotel by developer Qatari Diar which bought it seven years ago.
The US embassy is due to move into a new building in Nine Elms next year.
Qatari Diar, working in partnership with the Grosvenor Estate which owns much of Mayfair, plans to convert the Saarinen building into a 137-bedroom hotel with five restaurants, six shops, a spa and a ballroom with space for 1,000 people and other event space.
Planning documents reveal the wider project team includes Gardiner & Theobald as cost consultant, Buro Four as project manager, AKT II as structural and façade engineer, Hilson Moran as building services, fire engineer and ecology consultant, and BDP as landscape consultant.
But the Twentieth Century Society has written to Westminster council warning that the designs for the sixth floor, which is to be double the height of the other floors, will "cause significant and substantial harm to the character of the building".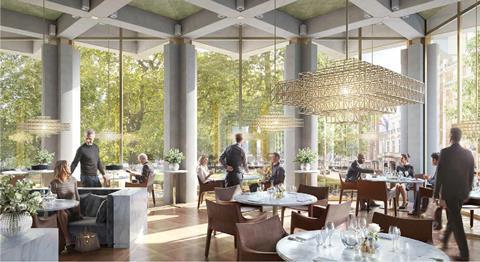 The letter said: "The proposed double-height sixth floor will damage the present proportions of the listed building: the rhythm of the front façade will be fundamentally changed.
"We are disappointed that the applicant has persisted with this damaging scheme notwithstanding the society's suggestions at pre-application stage as to how the effect may be ameliorated."
The society also said planned demolition of the majority of the internal spaces, particularly the removal of the original staircases, would harm the building which was listed at grade II in 2009 by controversial heritage minister Margaret Hodge.
But Chipperfield said when the scheme was unveiled earlier this year: "Our design proposals protect and respect the significant architectural and structural characteristics of Eero Saarinen's design, with a focus on restoring and enhancing this unique building to secure its long-term future at the heart of Mayfair."
The new US embassy, designed by US architect Kieran Timberlake, is due to complete next year. The site, protected by a moat, includes a 12-storey main building for the embassy's 1,000 staff along with a further three separate pavilion buildings housing checkpoints for visitors and staff.