Adverse weather conditions have impacted on the construction of the new bridge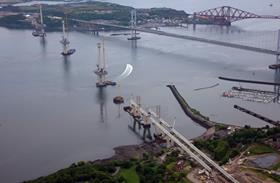 The new Queensferry Crossing is running five months behind schedule, it has been revealed.
Forth Crossing Bridge Constructors (FCBC) - which consists of Dragados, Hochtief, American Bridge International and Morrison - had been targeting opening the bridge in December, but now expects to open the bridge by May next year.
The consortium said the delays had been caused by bad weather conditions since September last year.
The FCBC, according to a statement from the Scottish government, has drafted in additional staff to try and mitigate the impact from the ongoing bad weather, taking on 100 extra workers, increasing working hours and identifying efficiencies in the programme, but have now hit a technically complex part of the build, meaning extra resource will no longer move it along faster.
In addition, the remaining construction activities can only be carried out sequentially, further limiting the ability to make further gains.
Specifically the bridge deck and the cable installation process, which began in September 2015, are particularly sensitive to wind and this increases as the cables used become longer and are installed at a greater height.
This creates a knock-on effect for subsequent activities, road surfacing and wind barriers which will now take place during autumn and winter 2016/17.
Cabinet Secretary for Economy, Jobs and Fair Work Keith Brown said: "Going forward, in order to ensure that this project remains on track, I have implemented enhanced governance procedures from Transport Scotland senior management and will receive twice weekly updates from the project team.
"We have always been ambitious about this project and have always worked towards a deliberately ambitious target. However, it is important to recognise that FCBC still fully expects the project to complete within the timeframe of their contract. This project is not late and there will be no impact on the public purse.
"The December 2016 target date was set to address concerns about the long term condition of the Forth Road bridge where it was originally believed that it would be restricted as early as 2017. These concerns have proven to be less immediate and the recently installed structural health monitoring system is providing assurance on the ability of the FRB to sustain traffic. However that hasn't decreased our determination to complete this once in a generation project at the earliest opportunity.
"The Queensferry Crossing directly employs over 1,200 people, many of whom have been performing some of the most complex civil engineering ever seen in Scotland, in the highly challenging environment of the Firth of Forth. Over 12 million man hours have gone into the project so far and we should not lose sight of their hard work and dedication. Anyone who looks at the works in the Forth cannot fail to be impressed with their achievements to date."