Chief executive Leo Quinn says firm has 'stabilised' but admits losses could still worsen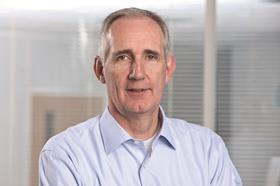 Balfour Beatty chief executive Leo Quinn has said the troubled firm's financial performance has "stabilised" but losses could still grow, after the firm posted an increased half-year pre-tax loss of £150m this morning.
Quinn - who took the helm at Balfour in January - told Building the firm was "an awful long way through" historic problem contract issues that have dogged the firm for three years, resulting in seven profit warnings over this period.
But Quinn said he could not rule out the possibility of more profit warnings this year, nor could he guarantee Balfour wouldn't post a larger full-year loss for 2015 than last year's £304m pre-tax loss, saying: "We are comfortable with our position, but you can never say never."
The £150m pre-tax loss for the first half of 2015 compared to a £58m pre-tax loss for the same period last year.
Quinn sought to reassure investors that he expects 90% of Balfour's historic problematic UK contracts to be resolved by the end of 2016.
He said the firm had now introduced an "eight stage gate bid approval system" on tenders to help manage risks and ensure "new business is of the right quality".
Aside from the loss, Quinn said the firm had enjoyed an "incredible turnaround" in his first six months in charge and progressed towards its 'Build to Last' programme goals of generating £200m of extra cash and cutting £100m of cost by the end of 2017 - with £25m of cost-cutting already implemented.
Quinn said he was "proud" to be chief executive of Balfour Beatty and "confident" the firm had the support of clients, citing a stable order book at £11.3bn, down fractionally from £11.4bn, and major recent contract wins including the £460m M&E package on Hinkley Point C power station won in joint venture with NG Bailey, as revealed by Building.
Quinn also pointed to the firm's strong balance sheet - backed by an investments business its directors value at £1.25bn - and an improved net cash position of £260m, as attractions for clients.
He added: "[Clients see] these are largely historical problems. They want to work with a business that will be there in ten years time".
Despite a raft of senior departures in recent months, Quinn said the firm was committed to retaining and recruiting talented staff, adding that Balfour would attract those "that want to do great things" in construction.
Commenting on the UK market, he said there was "a lot of business out there", adding: "We're working with a tail wind, not a head wind. We have a strong pipeline of opportunities".
Commenting on reports last week that the Australian chairman of Balfour Beatty Philip Aiken may leave the UK because of the added cost of changes to the non-dom tax system, Quinn said it was "a personal matter for the chairman", but added: "I'm confident he's having so much fun [at Balfour] he'll be around for a long time."