Wembley Park firm eyes work on sites around Dublin
Quintain has launched a subsidiary in Ireland which plans to build over 9,000 homes around Dublin.
Quintain Ireland will oversee the development of 460 acres of land across Greater Dublin in Adamstown, Cherrywood (pictured), Clonburris and Portmarnock on sites owned by groups linked to US private equity firm Lone Star Funds.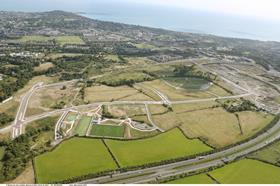 Quintain, which last week announced it had appointed James Saunders as its new chief executive, said the new Irish venture would initially have a staff of 12 which will more than double to 25 next year.
Saunders said Quintain had been "actively looking at new opportunities to expand its business for some time".
Quintain is currently developing Wembley Park, the 82-acre regeneration scheme which will eventually deliver more than 5,000 homes by the late 2020s.
Quintain Ireland's development sites
Adamstown – 5,000 homes on 220 acres
Clonburris (part of the Adamstown site) – 350 homes
Cherrywood – 3,000 homes on 120 acres
Portmarnock – 1,000 on 87 acres