Make-designed masterplan is next phase of giant Wembley development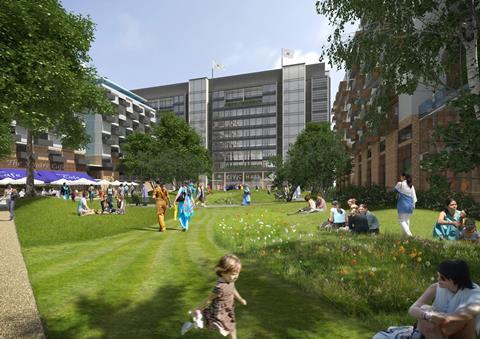 Wembley North West
Developer Quintain has won outline planning permission for the £500m next phases of its regeneration around Wembley stadium.
Brent council gave consent last night for the 160,000m2 Make-designed masterplan for Wembley City North West, which includes plans for 1,300 new homes around an acre of public space.
It will also include a new shopping street and an upgrade to the Olympic Way, the pedestrian route from Wembley Park station to the stadium.
The permission is in addition to the consents already secured by Quintain for the area around the stadium.
Ben Gidden, commercial development director at Quintain said: "Our vision for Wembley City is to create a place where people want to live, shop, work and spend leisure time. This vision is now a step close to reality. By delivering modern homes and workspaces and bringing brand name retailers back to Brent, people will be drawn to Wembley City – not just on a match day but every day of the week.
Councillor Ann John, leader of Brent Council, said: "I am delighted that the backdrop to our national stadium will be transformed through our shared vision."
Quintain has already completed the development of 520 new homes at Wembley City, the refurbishment of Wembley Arena and the delivery of Arena Square. Work continues on the new 361 bedroom Hilton Hotel and the 660 bedroom student accommodation, which will open in summer and autumn 2012 respectively. It plans to start construction of the new cinema and the London Designer Outlet centre later this year.