Contractors have been invited to bid for the £100m job to fit-out the new Crossrail station at Woolwich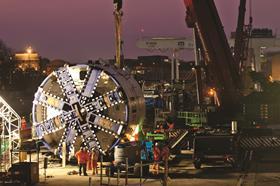 The long-awaited procurement comes after a funding deal was reached on the Crossrail station last week.
The four-year job, valued at £75-£100m, involves completions of the detailed design for the fit-out of the station box; manufacture, supply, construction, including the completion of any remaining civil or structural works, as well as installation, testing, commissioning, and a caretaker period of maintenance.
An £80m skeleton station was completed in February, but the fit-out has been dependent on Transport for London, the government, Berkeley Homes and Greenwich council thrashing out a funding package for the fit-out works.
Transport for London set a deadline of this month for a funding package to be agreed and did not discount the possibility of trains running through the empty box without stopping if a funding agreement for the fit-out could not be reached.
But the parties agreed a deal last week, with Berkeley Homes contributing £54m, with further contributions from TfL and Greenwich council, through a Greater London Authority grant and developer contributions.