Cost criteria made up just 20% of the award
HS2 has revealed how it made the decision to appoint a team led by Mace to the scheme to build the £1.6bn Euston station.
In a contract award notice published to the Official Journal, HS2 revealed that the Mace/Dragados JV's ability to meet quality criteria accounted for 80% of the award, which was made last month.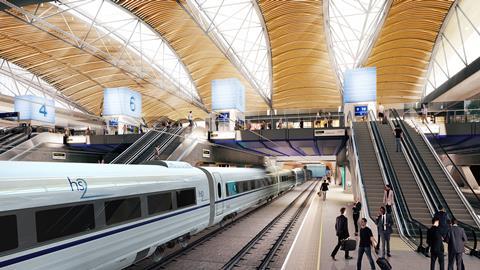 Under this, responses to the technical invitation to tender questions accounted for 57% of the award, while answers to the commercial questions were worth 8%.
HS2's behavioural assessment of the contractors then accounted for a further15%.
The team's ability to meet a pair of cost criteria accounted for the remaining 20% of the reason.
The firms' staff turnover rates had a weighting of 10% while the lump sum fee was the remaining figure considered.
The notice also revealed HS2's step-in, replacement and novation clauses should issues arise with the Mace team.
The contract requires the construction partner to procure collateral warranties from its supply chain in its subcontracting arrangements.
These collateral warranties will be required to include step in arrangements which entitle HS2 to intervene and assume the role of employer under subcontracts.
HS2 will have the ability to step in on a temporary basis before allowing Mace and Dragados to resume their role or, in the event of termination of the contract, to come up with a replacement strategy.