Deloitte Crane Survey reports the capital now has 14.2 million sq ft of office space under construction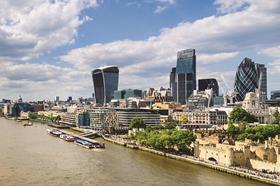 The volume of central London office construction has risen by more than a quarter (28%) in just six months, according to Deloitte Real Estate's London Office Crane Survey.
Developers recognising the low supply of office space available across the capital have responded with a record 51 new construction starts, taking the total amount of office space under construction to 14.2 million sq ft, the survey reported.
The figures are expected to rise further, according to Will Matthews, head of research at Deloitte Real Estate, who said that with many more sites under demolition, Deloitte expects the pipeline to rise to almost 16 million sq ft by the end of the year.
The Square Mile is leading the way with over half of the new construction starts in the last six months, amounting to 8.2 million sq ft, while the West End added only 426,500 sq ft of space from 12 new starts.
Development activity in Midtown increased the most, recording a 58% jump, on the back of nine new office schemes that will collectively provide 1.2 million sq ft of space.
Elsewhere the Southbank and King's Cross both recorded two new starts each, the survey added.
Chris Lewis, head of occupier advisory at Deloitte Real Estate, said: "London is building for business as developers respond to strong occupier demand. In just 18 months we have seen construction activity nearly double from 7.7 million sq ft in late 2014 to over 14 million sq ft today."
Lewis added: "This survey highlights the balance between supply and demand. With five years of previously low construction levels limiting businesses' choice of space, pre-completion lettings are on the rise.
"Nearly six million sq ft, or 42%, of space currently under construction is already let, that's up from 38% in six months. This is largely driven by the financial and technology, media and telecoms sectors, which have signed for 2.3 million sq ft and 2.2 million sq ft of space respectively."