Firm puts Cheesegrater problems behind it to post bumper set of results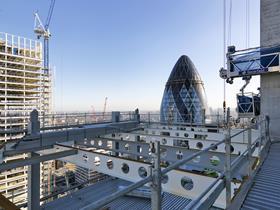 The steelwork contractor carrying out work on the City of London's tallest tower and Tottenham Hotspur's new home says it is on course to double profit by 2020 after posting a bumper rise in profit last year.
Two years ago Severfield gave itself a target of lifting underlying pre-tax profit to £26m by 2020.
The strategy was laid down just three years after the 22 Bishopsgate tower (pictured) contractor was forced into a £45m emergency rights issue after seven problem jobs – notably its work on the Cheesegrater building in the City of London – saddled it with a company-threatening debt pile.
But the firm is putting those problems behind it after seeing underlying profit jump 19% last year to £23.5m on revenue up 5% to £274m. Pre-tax profit was up 23% to £22.2m.
New chief executive Alan Dunsmore, who took over from Ian Lawson earlier this year, said the firm was looking at revenues of between £270m and £300m when it set out its 2020 strategy with operating margins of between 8% and 10%.
In its latest results for the year to March 2018, Dunsmore said the firm had racked up margins of 8.3% – up from last year's 7.5% –which he said was down to improvements in efficiencies at its four factories in the UK, including its head office near Thirsk in North Yorkshire.
The firm, which is also building a new retractable roof at Wimbledon's Number One court and is set to start putting together 15,000 tonnes of steelwork for Lendlease's new Google headquarters building in the second half of next year, said its order book at the beginning of this month stood at £237m.
Severfield, which has worked on a number of high-profile office schemes in the capital over the past few years including the new headquarters of US investment bank Goldman Sachs and Shard Place next door to London Bridge station, said its pipeline of commercial office jobs in London and outside was holding up.
It said it expects to grow its infrastructure order book on the back of jobs likes HS2 – where it is targeting work to help build the new stations and bridges required for the job – and the expansion of Heathrow Airport as well as improvements to the rail and road networks by Network Rail and Highways England
Earlier this year Dunsmore said Severfield, which carried out the steel contract on T5, said its share of work in the sector had fallen to just 10% of income having once stood at around 30% when it finished the T5 deal more than a decade ago.
Its order book from its Indian joint venture with local firm JSW Steel grew to £106m at the beginning of June, up from £73m for June 2017. It said the firm's share of profit from the business, known as JSSL, was £500,000, up from £200,000 last time, with operating margins of 9.2%, down from 9.7%.