Country's biggest builder eyeing improved margins later this year as turnaround gathers pace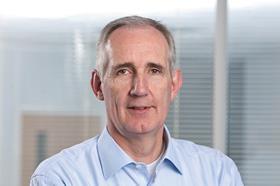 Balfour Beatty has shrugged off the woes of recent years with the firm seeing underlying profit more than double in 2017 helped by a recovering performance at its largest business, construction services.
The country's biggest contractor, which three years ago nosedived to a £304m pre-tax loss thanks to a host of problem UK jobs, turned in an underlying profit of £196m from £69m in 2016. Pre-tax profit jumped from £10m to £117m with revenue remaining flat at £8.3bn.
Chief executive Leo Quinn, who joined at the beginning of 2015 and began a restructuring programme called Build to Last, said he now expects the firm to be turning in improved margins later this year.
He said: "As a result of Build to Last, and the governance and controls now in place, we remain on track to achieve industry-standard margins in the second half of 2018."
Quinn (pictured) has told bosses at the firm's UK construction business that margins should be 2%-3%, while its US construction business has been given a lower target of 1%-2%. Its support services business, which includes its utilities and transportation arms, has been given a target of 3%-5%.
Its construction services business saw income edge up 2% to £6.7bn but the arm, which includes its UK, US and Hong Kong-based Gammon Construction businesses, saw underlying profit return to the black with a £72m profit from a £21m loss last time.
The firm said much of the improvement had been driven by its UK business which posted a £21m profit from a £65m loss in 2016.
But Balfour Beatty said Carillion's collapse means it has been forced to book a £44m loss on the Aberdeen Western Peripheral Route it is hoping to finish this summer with remaining joint venture partner Galliford Try. The pair were building the 58km long road with Carillion before it went bust in January.
The firm said the Scottish road was the largest of its remaining problem contracts that was giving it the most headaches because of "ongoing schedule and cost issues". It added that of the 89 UK problem contracts Quinn inherited when he took up the post three years ago, 93% were now at practical completion.
Balfour Beatty said it has taken on more than 150 staff from Carillion who it was also working alongside on the A14 upgrade in Cambridgeshire as well as a smart motorway scheme in Manchester.
Revenue at its support services arm stayed flat at £1.1bn with operating profit edging up £7m to £41m.
Its order booked slipped from £12.4bn to £11.4bn although the firm said this number did not include its £2.5bn worth of work on the HS2 railway it has won last summer in joint venture with Vinci.