Firm's UK construction arm returns to profit after several years of losses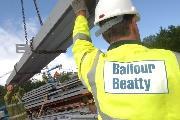 Balfour Beatty has seen its pre-tax profit jump during the first half of the year as the firm continues its recovery after recording massive losses in 2015 and 2014.
The contractor posted a pre-tax profit of £12m for the first six months of the year, more than the £10m profit it recorded for the whole of 2016 and up on the pre-tax loss of £15m for the first half of 2016.
Revenue was also up 5% for the six months ended 30 June 2017 on the same period last year from £4bn to £4.2bn.
Balfour's UK construction business also returned to profit in the first half of the year reporting a slim £2m gain, compared to the £69m loss in the first six months of last year.
A selective bidding strategy aimed at increasing margins saw the division's order book fall by 4% to £2.2bn.
Of the 89 historical problem contracts identified at the 2015 half year, which were affecting the company's profit and cash, 82 are now at practical completion. Two more of the remaining seven contracts are expected to reach practical completion this year, with the remainder due to complete next year, Balfour said.
The firm's US construction services arm also continued to improve, posting a profit of £17m for the first half of the year, up from £12m for the same period last year.
Balfour said it continued to see growth opportunities regionally in the UK within the commercial building sector, but remained cautious on London where there has been a slowdown in projects coming to the market.
The firm also reiterated its plans to continue targeting large infrastructure projects such as HS2, on which it was recently awarded two major civil engineering contracts valued at over £2bn with its joint venture partner Vinci.
Leo Quinn, chief executive, said: "Profitability is rising, backed by positive cash flow from operations, and the group had average net cash during the period; all achieved without any material investment disposals. The balance sheet remains strong, underpinned by the £1.2bn Investments portfolio.
"Under stronger leadership and much improved bidding disciplines, the businesses are booking new orders at improved margins and reduced risk. Our infrastructure pipeline in the US and UK remains buoyant and the Group continues to win landmark contracts such as the Dallas Southern Gateway and HS2.
"All of this gives us confidence that the Group remains on track to achieve industry-standard margins in the second half of 2018, and in line with this, we are declaring an interim dividend of 1.2 pence per share."