Housebuilder turns back on £8m of cash
Redrow turned its back on £8m of government furlough money because it could not justify taking taxpayers' cash and then start paying out dividends to shareholders.
The housebuilder said it was entitled to the sum under the government's Job Retention Scheme but has returned all payments it banked from the initiative.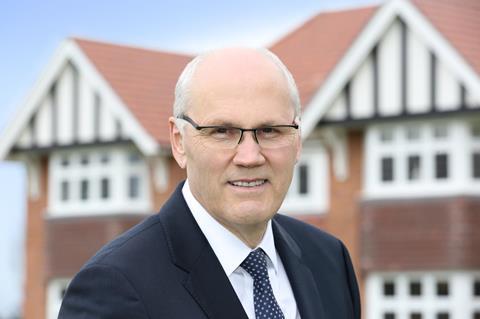 Redrow furloughed around 80% of its 2,300 staff at the height of lockdown in April but executive chairman John Tutte said it was shouldering the cost of that itself.
He added: "[We were] still profitable and generating cash. It didn't feel right to be taking government money when we could have afforded it. There was a moral dimension to it. We had suspended the payment of the dividend and we want to resume that. It didn't seem right to be taking government money and resuming payments to shareholders."
The firm cancelled a 10.5p interim dividend, which was due to be paid in April, and in its annual results today said it was not expecting to pay out one for its 2020 financial year. But it said it expected to begin making them again from next year.
The firm, which said all furloughed staff had returned to work by the end of June, said it would be taking a £35m hit on its decision to pull out of the London housing market where it has been for the past decade.
Redrow is keeping its 4,000-home scheme at Colindale, close to the RAF Museum in north-west London, but will gradually reduce the number of sites in the capital from six to one.
The firm said the £35m was being spent on job losses and the cost of closing sites.
It said it expected London to account for around £170m of revenue for the foreseeable future and added that its decision was based on what was best for Redrow rather than an indication that the housing market in the capital was softening.
"The best return on investment is out in the regions," said Tutte (pictured). "Our Heritage collection has seen huge demand and people want more space, gardens and access to nature post lockdown."
The Heritage collection is a brand of 30-40 different house types running from two beds to five and Tutte said pent-up demand following the end of lockdown was driving sales at the arm.
He added: "I was quite surprised how quickly [the market] bounced back but I shouldn't have been. People spent a lot of time crawling over [property website] Rightmove during lockdown and thinking about moving home. Demand will lessen a bit and return to more normal levels."
Redrow has a record order book of £1.53bn for the first 11 weeks of the new financial year – up from £1.33bn last time – but Tutte cautioned the market could get tougher next spring when the current stamp duty holiday ends.
In the year to June, Redrow made a pre-tax profit of £140m for the year, down 66% from the £406m recorded in 2019. Turnover was down to £1.34bn from £2.1bn with the number of completions falling 37% to 4,032.