Pre-tax profit jumps 50% to £204m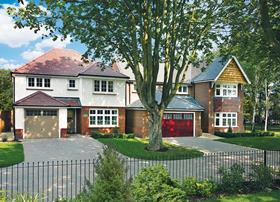 Housebuilder Redrow has posted a jump in pre-tax profit of over 50% to £204m in full-year results to June 2015, while its revenue broke through the £1bn barrier.
Redrow reported that a 12% rise in legal completions, along with a 13% rise in average selling price, helped boost revenue by 33% to £1.2bn from £864m in 2014, with gross margins rising to 23%.
Redrow's results cap a buoyant few months for housebuilders. Last month Persimmon reported a profit surge of 31% to £272.8m on the back of an 11% revenue jump for the first six months of 2015. Half-year revenue at housebuilder Bovis Homes also jumped 9% to £350m on the back of record number of completions.
Redrow chairman Steve Morgan said: "I am pleased to announce another set of record results. For the first time in our history, we generated turnover in excess of £1bn, up 33% on last year. We built and sold over 4,000 homes across the UK last year, up 12% from the year before and around 42% more than in 2013.
"Pre-tax profits also reached record levels, up 53% as we saw the benefit from our early site acquisitions post the downturn. This strong performance has led the Board to propose a dividend of 4p per share, double that paid in the last financial year.

"Looking ahead, we have a strong pipeline of attractive sites in excellent locations and a high quality industry leading product. We have entered the year with a record order book and reservations to date are running 5% ahead of last year at 0.68 sales per outlet per week. We have secured 820 private reservations in the first 10 weeks, some 28% ahead of last year."